by Chris » 31 Mar 2019 11:25 am A young friend of mine, a would be Punch prof, is going to Turkey for a two week Easter holiday. He's far more excited about the coming May Fayre Punch & Judy Festival in Covent Garden than his foreign holiday and every time he meets me he asks if I know how long before Covent Garden, and when I give some approximation he gleefully tells me to the exact day.
 In the 1980s I did visit Turkey since Istanbul was one of our ports of call when I was performing on The Calipso, a Greek cruise ship. I loved Topkapi, the palace which figured in a the film "Topkapi", the classic jewel heist movie, and also St. Sophia, a former Greek Orthodox Christian cathedral, later an Ottoman imperial mosque and now a museum. Quite splendid!
I searched but never tracked down Mr.Punch's cousin Karagoz in Istanbul, although I did find him in Greece. But that's a story waiting to be written up for the PunchandJudy.com website.
This is Karagoz, a puppet folk hero in both Turkey and Greece. Unlike Mr. Punch who is a Hand Puppet this is a Shadow Puppet.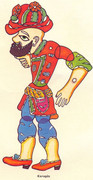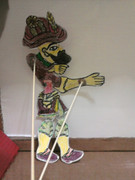 This is all just an excuse to remind you:-
SUNDAY MAY 12th, St Paul's Church Gardens, Covent Garden. Mr. Punch awaits you.
by Chris » 07 Feb 2019 05:45 pm COVENT GARDEN MAY FAYRE
AND PUPPET FESTIVAL
SUNDAY 12 MAY 2019
ST PAUL'S CHURCH GARDEN, BEDFORD STREET, WC2
Dear Friends
We have great pleasure in inviting you to attend the 44th Annual Covent Garden May Fayre and Puppet Festival to be held this year on Sunday 12 May 2019 to celebrate Mr Punch's 357th birthday near the very spot that Samuel Pepys first saw Mr Punch in England in May 1662.
The May Fayre will take place in the garden of St Paul's Church, Bedford Street, Covent Garden, London, WC2. The day will start with a Grand Procession at 11am led by the Superior Brass Band, followed by the Special Church Service at 12noon, and performances from 12.30 until 5.30pm. We are hoping for lots of sun and friendly crowds again this year.
With best wishes from Maggie Pinhorn, Amy Dyke-Coomes and the May Fayre Committee.
Please reply to The May Fayre Committee
c/o Alternative Arts, 530A Commercial Road, London E1 0HY
Tel 020 8800 6665 email info@alternativearts.co.uk